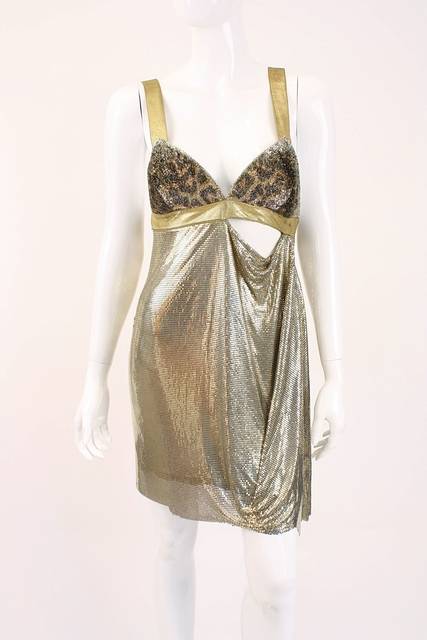 Documented Fall 1994 Vintage GIANNI VERSACE Oroton Chainmail Dress
Documented Fall 1994 Runway Vintage GIANNI VERSACE Gold Oroton Chainmail Dress with Leopard Silk Velvet Bodice.  This sensational Gianni Versace dress was worn by Yasmeen Ghauri on the runway and in the infamous golden dress photo from that year.  This special piece was also featured in the 1997 Metropolitan Museum of Art Costume Institute's exhibition "Gianni Versace" and is featured in the accompanying book (see photos).  
Designer:  Gianni Versace
Condition:  Very Good, there is light wear to the leather trim on the bodice. Light wear overall.  
Size:  vintage 40, fits like a small

Length: 27 inches long 
Bust: 29 inches around at the bust
Waist: 28 inches around the waist
Hips: 19 inches across at the hips
Material:  chainmail, leather and silk velvet