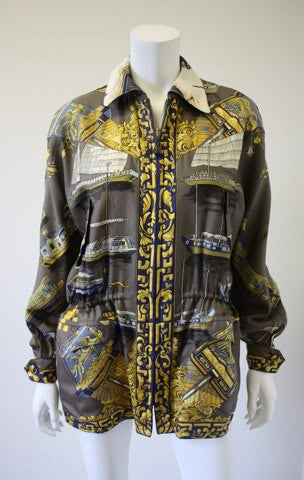 Rare Vintage HERMES Reversible Anorak Style Jacket
Rare and amazing Vintage HERMES silk reversible Asian fishing boat print anorak style jacket.  Oh wow--speechless!   This is so gorgeous.  This Hermes jacket has an optional draw string waist and has leather accents.  The print is the same on both sides but done in different colors.  So classic!  I would wear this with skinny jeans and my favorite booties for fall!  Make it yours.
Designer:  Hermes
Condition:  Excellent, light wear, one of the zippers on only one side of the jacket is missing its zipper pull.  This does not effect the use of the zipper.
Size: 38, fits like a small-medium
Length:  31  inches long 
Bust: 19 inches across the chest
Sleeves: 29.5 inches from the NECK seam to cuff
Material: Silk