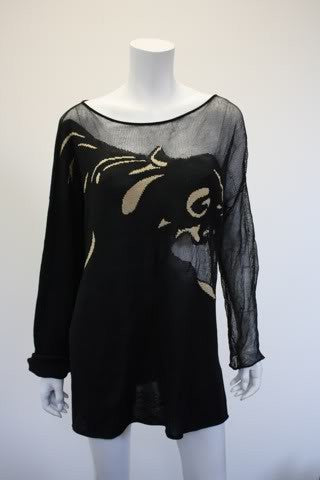 Rare Vintage KRIZIA MAGLIA Panther Print Knit Sweater
Mind blowing Vintage KRIZIA MAGLIA sheer and opaque silk knit sweater or sweater dress with angry panther!  The panther is strategically knit into the sweater as to conceal certain parts of the body and reveal others.  Brilliant!
Designer:  KRIZIA MAGLIA
Condition:  Very good, there is one pull on the sheer shoulder of the sweater. Otherwise excellent.
Size: 46, large as a sweater, small-medium as a dress
Length:  28  inches long 
Bust: 25 inches across the chest
Sleeves: 27 inches from neck to cuff
Material: Silk