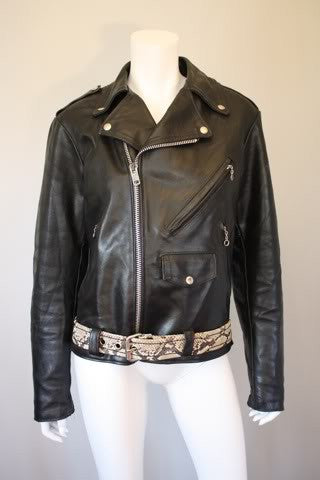 Vintage Motorcycle Jacket with Python Belt
Vintage Black Leather Motorcycle Jacket with genuine python snakeskin belt!  The python belt is part of the jacket and instantly adds a bit of runway to a classic black leather biker jacket.  Love!
Designer:  The Leather Shop, Sears
Condition:  Excellent, there is some light wear in areas to the leather, but it only adds to the vintage feel.
Size: 38, fits like a woman's medium 
Length:  27  inches long 
Bust: 20.5 inches across the chest
Sleeves: 25.5 inches from neck to cuff as there is no shoulder seam
Shoulders: 18.5 inches measured across the back from shoulder seam to shoulder seam
Material: Leather